A New Way to File Petitions
Statistics and Applied Probability is offering students a new way to file a petition. Currently we are offering two of our most popular petitions in this new digital workflow, PSTAT199 and Credit & Enrollment Clarification Petitions. After logging in with your UCSBNetID you will be presented with your own personal dashboard.
Sample Dashboard

From this dashboard you can file petitions and monitor them as they go through each step of their approval process. One benefit of this new process is how smart it is; many fields will be automatically filled in where applicable, required fields will be highlighted should you fail to fill them out. Our hope for you in using this process is that it will assist in accuracy (avoiding petition rejection and re-filing) and streamlining petitions; thus, speeding up the approval process. Finally, allowing you to monitor the petitions as they flow through the process, answering the eternal question, "What's its status?"
Give it a try by going HERE and clicking on, "Go To Dashboard" 
PSTAT 199 Petition: provides an opportunity for advanced students in the major to work closely with a professor on a research project. Interested students should review the following requirements and procedures before enrolling in the course. Requirements: Open to upper-division students of proven scholastic ability by consent of instructor and Department Chair. Students must:

Have upper-division standing (90 completed units).
Must have a minimum of 3.0 GPA for the preceding three quarters at UCSB.
Have completed at least two upper-division courses in Statistics.
Have obtained permission of a professor to sponsor your work.
Complete a proposal and obtain approval prior to enrolling in the course.
Students may not have more than 12 units of 199 combined.
Submit a final report or other written work, as determined by the sponsoring professor.

The written work/report must be submitted to the sponsoring professor before a grade will be assigned for the course.
Do not start the project without full approval from the professor and an add-code so you can register for the course!
Consult with your sponsoring professor to discuss instructions for any written assignments that he/she expects you to complete. If your sponsoring professor has no other written work planned for you, the following are some suggested questions he/she may ask you to address in a written report at the end of the quarter.
What are the goals of the research project on which you have worked? How do these goals refine, extend, or apply existing theory or knowledge in the area?

What key findings might be expected from this research? What is the value of the knowledge? How can or will it be applied/used?

What is the project's approach to defining and measuring key variables of interest? How have decisions in these areas influenced the outcomes of the study? Are there alternative definitions and measures that might have been used? How would the findings of the study likely differ if these strategies had been employed?

Identify and discuss other important strengths, weaknesses, or limitations associated with the research design for the project.

After this study is completed, what further research should follow?
PSTAT 199 Petition has 3 tabs:
Requirements (as stated above)
Student Information​

Most basic information on this form will be auto filled in; however, some items after first discussing with your Sponsoring Professor will need to be filled-in by you. After filling out any missing information, pasting your research proposal and uploading any addiitional information you may need, sign the document by clicking on 'New Sign' (Note: you will be given the option to save your signature so that you won't need to keep redrawing your signature but can just use the store one--It is recommended that you use a tablet or smart phone to sign with since its much easier than using a mouse.) and submitting it it will go onto the next steps; which you can follow their progress in the dashboard.

​Undergraduate Advisor Finalization

​When the form is finalized under this tab will be your add code. The add code will also be sent to the email address from this form.
Credit and Enrollment Clarification Petition (PSTAT901): This petition is used in order to request to repeat a course for a second time, to earn major credit for pre-approved courses taken outside UCSB (i.e. other UC's, CSU's, education abroad courses), etc. A petition for a course completed at another UC to serve as a legal repeat for UCSB course cannot be approved without the UCSB department's endorsement. The major department's review is required if a student is petitioning for a second repeat of a course that is applicable to a student's major, but the Dean has final approval. There are also other matters regarding credit clarification that may require a department's response. Please consult with the College of Letters and Science, 1117 Cheadle Hall.

Most information will be filled in automatically (including your majors.) Any justifications can either be written, uploaded or both. When done click, "New Sign" and then sign with your mouse, finger or stylus (Note: it's recommended that you sign from either a smartphone or tablet to get the most legible signature and that you save your signature so that you can keep re-using it for every petition you need to sign.)

When your petition is approved, you will receive an email with your add code. Also, you have the ability to log into your dashboard and view it from the "Add Code" tab in the petition you filed.
PSTAT 199 Petition: Prior to you receiving an email notification that a student you have discussed a research project with, has filed this petition and is waiting for your approval an advisor will do a verification of eligibility. After the advisor has approved student eligibility, you will receive an email stating that the student has filed a petition. In that email you will have a link to your dashboard and once you authenticate you will be taken directly to that petition and your screen will look like the one below: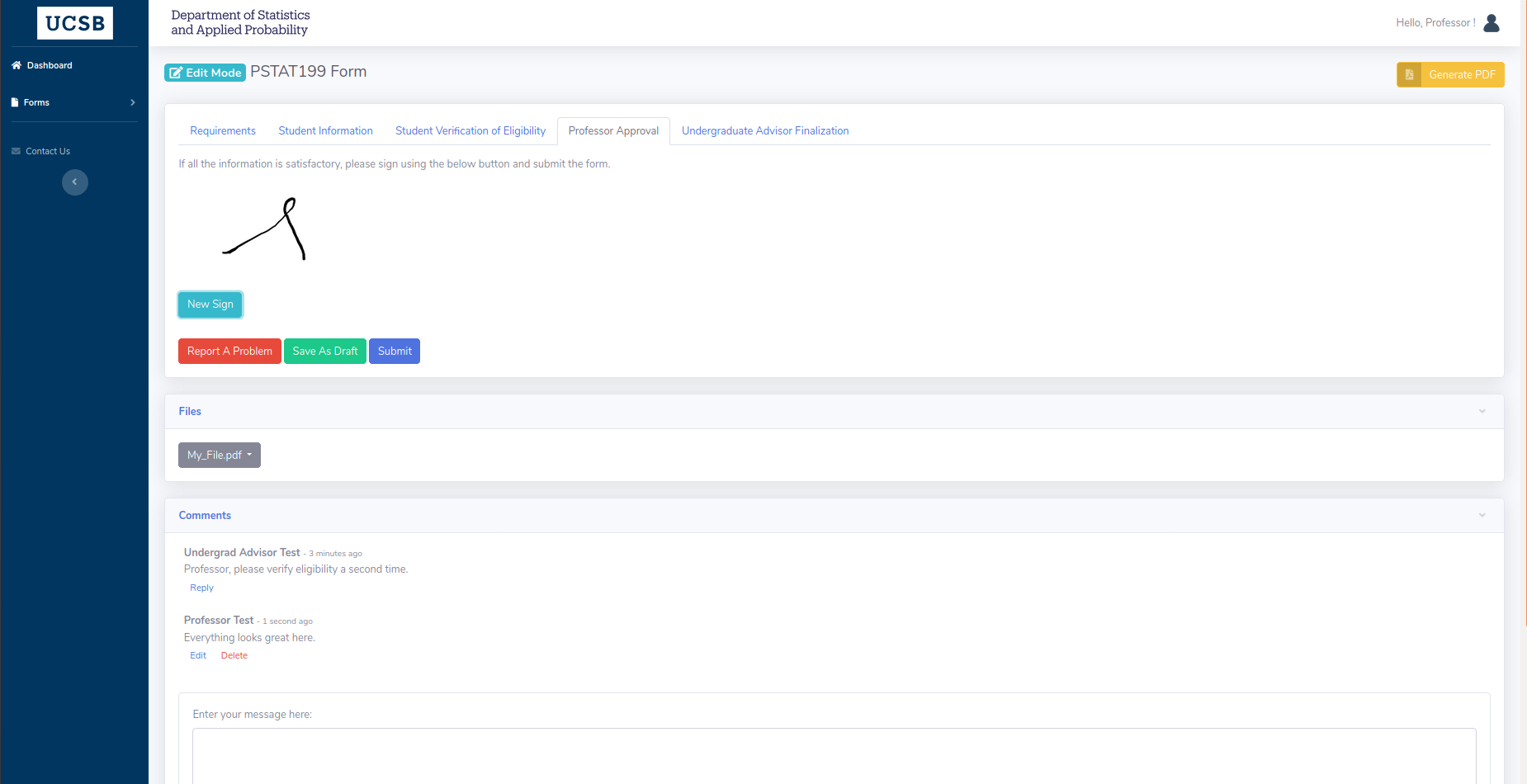 After reviewing student information, proposal and any supporting information attached with your approval simply click, "New Sign" and sign with either a mouse or if you have a tablet or phone sign with your finger or stylus (Note: it's recommended you sign with your finger or stylus and once you do save your signature to your account so that you can re-use it for future petition approvals.)
Above you'll see that you can leave comments for either the student or the advisor (by default they will be left for the advisor only). You can also see any messages sent to you and from there you can reply to whomever left the message for you.
PSTAT 199 Petition: For this form advisors interact at two stages. The first stage is to verify that the student requesting the petition is eligible. (you can see this in the image below). You will verify and enter the student's last three quarters GPA and Accumulated units, check off that they've completed at least two upper division PSTAT courses and that this 199 will not result in more than 12 units. Lastly, you'll select either that they are eligible in the pop up and then sign with your mouse, finger or stylus (Note: it's recommended that you sign from either a smartphone or tablet to get the most legible signature and that you save your signature so that you can keep re-using it for every petition you need to sign.)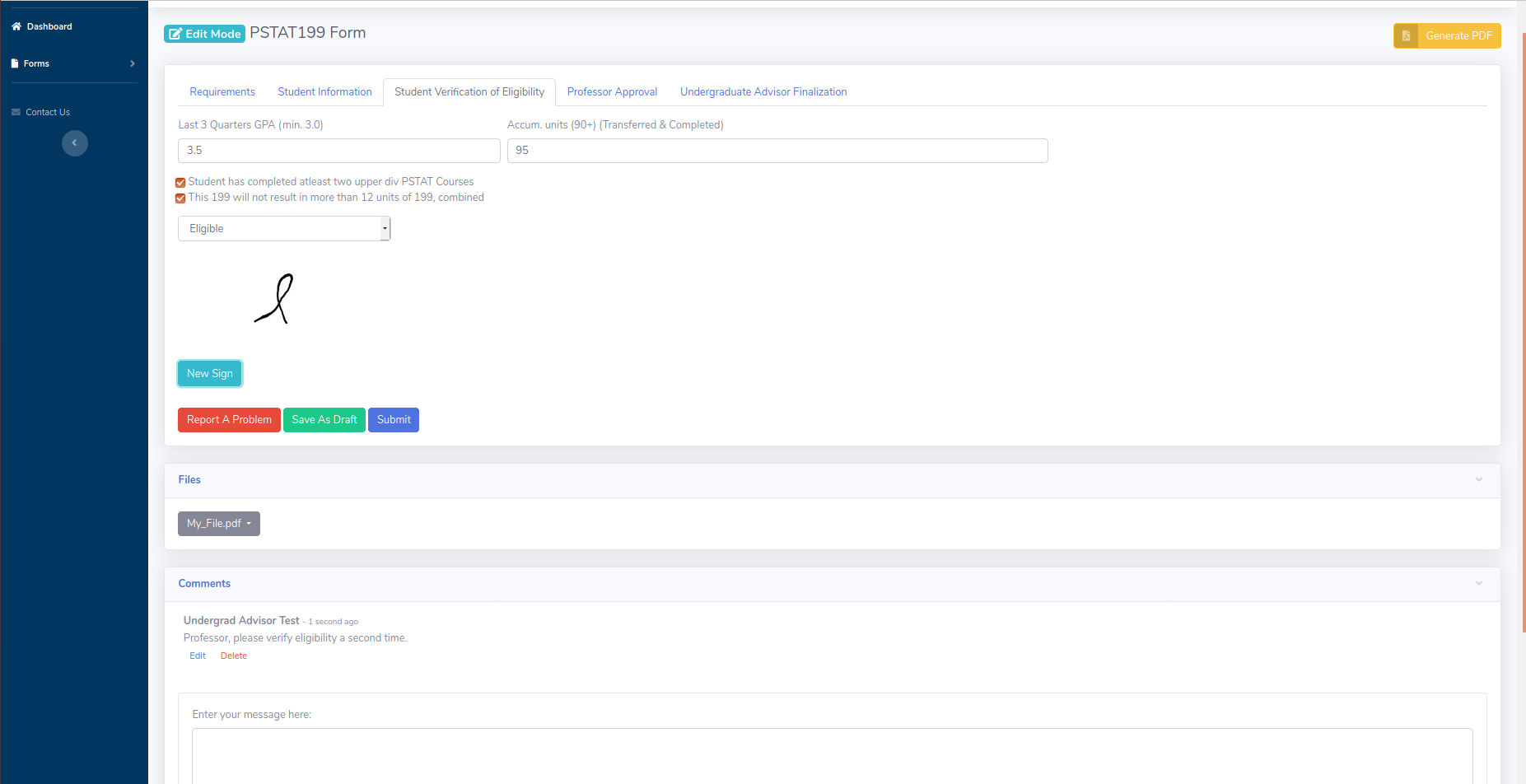 Prior to approval or denial, should you have any questions for the student or should the professor have a question for you, the comments section at the bottom will allow you to create and view comments. Any comment you create will be private for viewing by professors or other advisors only. If you want the student to see your comment, you have to click the button to allow that to occur.
Second stage: This stage comes after the professor has signed off on the petition; during this stage the Undergrad Advisor will 'Approve' or 'Deny' the form. If it's approved, the Undergrad Advisor will put an add code and sign the document by clicking on, "New Sign" (Note: it's recommended that you sign from either a smartphone or tablet to get the most legible signature and that you save your signature so that you can keep re-using it for every petition you need to sign.)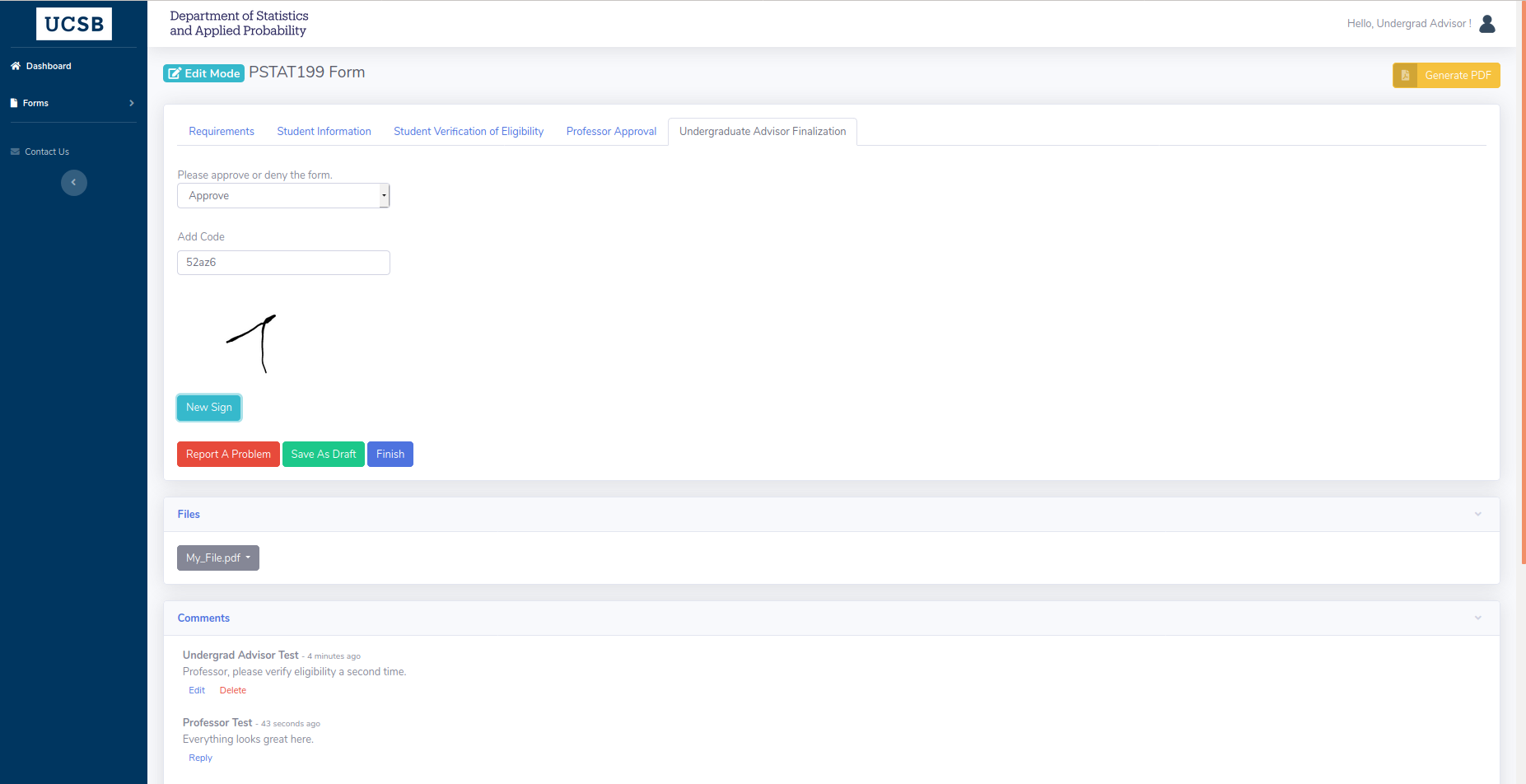 After it's approved, signed and clicked, "Finish," an email with the approval code will be sent to the student.
CREDIT AND ENROLLMENT CLARIFICATION Petition (PSTAT 901): There are two steps that advisors will be responsible for.

​First, is for an advisor to review all the student information for correctness, completion and eligibility. Once done, they will leave a note for the Undergrad Advisor stating the verification is completed and the petition is acceptable to move forward in the process. Should the initial Advisor have a question, they can leave comments for the student requesting additional information needed or any issues with the petition filing.


 

Finally, the Undergrad Advisor will upon reviewing both the student information and the previous advisors notes will either Endorse, Endorse with Conditions or Not Endorse the student's petition. As the final step in this petition process, it is recommended that regardless of your endorsement decision that you leave a detailed comment as to why the decision was made.